Calvin and Calvina are the two mascots of the Genève-Servette Hockey Club. These two giant eagles (aquila genevensis giganta) joined the club's ranks at the start of the 2006-2007 season and have actively participated in the success and life of the Vernets Club. It is not unusual to see one, or both of them at events around Geneva and their fun and kind nature makes them very popular with children.
Look out for them at the next meeting at Vernets; they will be the ones leading the cheers from the stands of the Geneva rink. Calvin and Calvina are the first mascot couple to be tied to a sports team in Switzerland.
Outside of the ice rink and other Genève-Servette Hockey Club events, Calvin and Calvina have their own
Facebook
page where everyone is encouraged to submit their photos.
Calvin also has a few friends in Canada and on a recent trip he met Harvey (Calgary Flames and the 1st mascot in the NHL) and Spartacat (Ottowa Senators).
Biographies
Calvin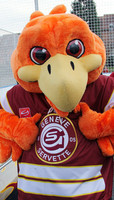 Date of birth : 15 September 2006
Place of birth : Geneva
Living place : Patinoire des Vernets
Size : big enough to hug several fans
Weight : too heavy, according to Calvina
Quality : prankster
Defaut : nosy
He likes : Calvina, Dragon's steak, Bear ribs, block fans' vision of the game
His goal : give a smile to children