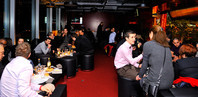 What is the Eagle Lounge Club exactly? Inaugurated in January 2012 it is a brand new space situated in the VIP zone. The extension accommodates both a brand new restaurant, accessible for VIP members (reservation needed) and a central bar.
The Restaurant includes a lounge corner, equipped with sofas, armchairs and poufs, which can be hired for the evening for business or specific events depending on the clients needs.
From the opening of the doors (18h15) up to the end of the second period the space is devoted to the restaurant business. Every match evening, two menus are on offer: the traditional fondue accompanied by a plate valaisanne as a starter and their famous meringues for desert or the evening menu, consisting of a hot starter, a main course and a desert (different menu for every match!).
To make the most of this offer, you should reserve your table by email to
hospitality@gshc.ch
at least three days before the game, indicating which menu you would like (fondue or evening menu), the name of your reservation and the number of people. The table will remain yours until the end of the second period. Menus for upcoming games can be found by clicking
HERE
or by going to Menus under the Hospitality and Eagle Club Lounge tab in the navigation bar.
At the end of the match, the restaurant makes way for a spacious and comfortable area, where a glass of wine can be had while discussing the Eagles latest exploits.
It is also possible to reserve a table for after the match where you will find yourself with other season ticket holders in the comfort of the lounge corner.
The Eagle Lounge closes its doors one hour after the end of the game when the party moves to McSorley's for those who want to prolong their evening.
Lot's of fun!