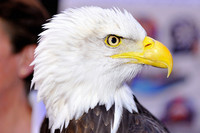 During the first match of the play-offs for promotion to National League A in 2002, a unique mascot appeared for the first time at the Patinoire des Vernets. For the first time in Europe, a live animal opened a game of ice hockey! The impressive animal, with its 2 m wingspan and 4 kg weight, was a bald eagle, a species famous for being the national bird of the United States of America.
Sherkan would soon become an essential part of the club for the supporters, players and sponsors alike. The bird attends matches, as well as autograph signings, school trips, events for sponsors and speeches made by Chris McSorley. He quickly became the club's most important symbol. Chris McSorley often jokingly refers to him as "the club's MVP". Over the years, Sherkan's popularity has spread outside the club, and he has often been present at events organized by the City of Geneva or the canton. The 2010 Spengler Cup revealed the true extent of his popularity when almost 900 people a day came to have their picture taken with him.
Many of the players who have met Sherkan over the last 11 years have become very fond of the eagle, especially the American players, who are delighted to see their national bird. A superstition has even developed that claims that when Sherkan doesn't fly well, the team loses. Of course there is no substance to the claim, but it shows Sherkan's importance within the team.
Contrary to rumours, the same bird has flown in the arena for 11 years. Like all young bald eagles, Sherkan was initially black, but developed a white tail at the age of five, which may have made some people think he was another bird. He was born in Canada in 1999 and has a life expectancy of 45-50 years! For the last year and a half, the Aigles du Léman park has begun to train up another bird to replace Sherkan, just in case. The understudy is a six-year old called Kéops. Over the last 11 years, Sherkan has missed only two matches deliberately, one in 2007, when he was attending the presidential palace in France, and one in 2005, when he was taking part in a very important show, also in France. In the winter of 2006 he missed three games due to the bird flu outbreak.
His routine is similar to that of the players. He gets time off as soon as the league championship ends in mid-August, then he starts a three-week intensive training programme before the start of the new season. During the season he flies every day to stay in shape, because although the flight in the arena is short, he needs to use lots of muscle power to take off from the ice in such cold air. Sherkan is a sea eagle, so his diet is predominantly fish, but on match nights he is rewarded with pieces of chicken.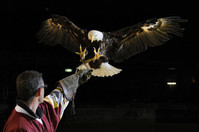 Over to Jacques-Olivier Travers
Hello Jacques-Olivier, please introduce yourself
My name is Jacques-Olivier Travers, I was born in France in 1972, and I've been a falconer for 25 years, and a professional one for 15 years. In 1997 I opened the Aigles du Léman park across the border in the French village of Sciez, and I've looked after Sherkan for GSHC ever since.
How did it all start?
One day I received a phone call from Tony Ulrich, who was GSHC's executive director at the time, and he told me the new coach wanted an eagle to fly in the arena before the start of each game. I thought he was having a laugh at first, but I decided to meet up with Chris. And that's how it all began. We have to pay tribute to him, because without his idea and his power of persuasion there would never have been an eagle at the Patinoire des Vernets.
Why is it difficult to make Sherkan fly in the arena?
To fully understand his performance, remember that Sherkan was the first eagle to achieve this feat, and he is still the only one to have done so. Portuguese and Italian football clubs have eagles flying at their stadiums before matches, but they're flying outdoors. The noise, light and atmosphere are completely different in the arena, and Sherkan can't get out if he gets stressed.
You've been at games for the past 11 years. What has impressed you during that time?
I've seen GSHC grow from a small National League B club to a big European club. During the Spengler Cup and when I'm invited for other professional sports events, I've noticed that, although GSHC doesn't have the same budget as the heavyweights, it does have the same level of organization and professionalism. I'm proud to have been part of this journey, which has helped me improve in my profession. When you can say your eagle has flown 300 times in an ice arena, it's a great selling point!
Sherkan could live for up to 50 years. Will we see him at the arena for the rest of his life?
I told Chris that I would stay with the team until they win the league. It almost happened two years ago, but it's only a matter of time before they do. In any case, Chris and I have agreed that Sherkan will at least stay for the first season at the new arena. After that, we'll see. Today, my relationship with Chris and the club is so special that I'm driven more by emotions than by business.